COMPANY PROFILE 
Premium Flex Co.,Ltd.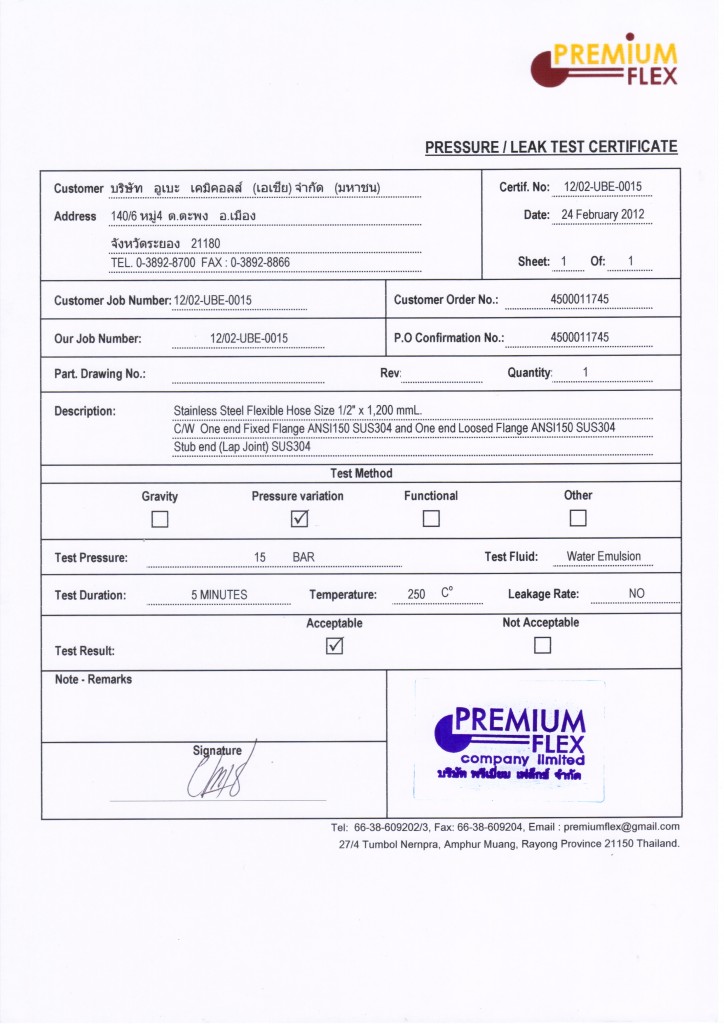 Premium flex Co.,Ltd Is a company that specializes in the produce and supply products in the field for petrochemical industry and transportation. We are combine with expertise group of engineers.
Our strategy relies simply upon customer satisfaction :
*** Quality Products.
*** Competitive pricing.
*** Efficient service.
OUR PRODUCT SUPPLY
Industrial Hose & Fitting Guide
Hydraulic Hose
Stainless Steel Flexible Hose
Metallic Expansion Joint
Fabric & Non-Metallic Expansion Joint
PTFE Flexible Joint and PTFE Expansion Joint
Rubber Expansion Joint
SERVICE
• Leak Test
• Pressure Test up to 1500 Bar
• Hose repair by hydraulic crimper
• Flexible hose repair by welding
Delivery & Service Center is :
27/4 Sukhumwit Rd, Tambol Noen Phla, Ampour Moeang Rayong, Rayong 21150.
APPROVALS / CERTIFICATION / LARGE INDUSTRIAL HOSE ASSEMBLY
Hose couplings are usually required for the connection of hoses to an installation. We know from experience that many mistakes are made with the choice of couplings and their assembly on the hose. We will therefore be pleased to advise you about the correct type of coupling the assembly method. Besides a complete range of hoses Premium flex provides a full range of hose couplings and hose clips. We can also professionally assemble couplings on hoses for you. The assembled hoses can be tested at pressure in our test department with a test certificate being issued. Obviously acceptance under the supervision of Quality Inspection Department is possible.